Today I'm very pleased to announce the launch of two new pdf sewing patterns – the Lou Box Dress 1 and the Lou Box Dress 2. I've been working on these patterns for a year now and I'm so excited to finally share them. They are both variations of my most popular pattern, the Lou Box Top, using the same sizing and the same guides to Mix & Match. Each pattern can be used on its own or combined with the Lou Box Top or the other dress for seemingly endless possibilities. These patterns are both easy to wear and easy to sew with lots of opportunity for variations to make it your own.
When I first started thinking about expanding the Lou Box Top pattern, I was focused on adding sleeves, as they are one of the most requested hacks. Somehow along the way of making many, many samples, I ended up with two dress designs plus the sleeves! I had so many ideas, it was really tough to narrow it down but I'm really pleased with how both of these designs came out. I've been wearing both of them a lot this last year. Both patterns work really well in both woven and knit fabric and there are detailed instructions for sewing the dresses in both types of fabric.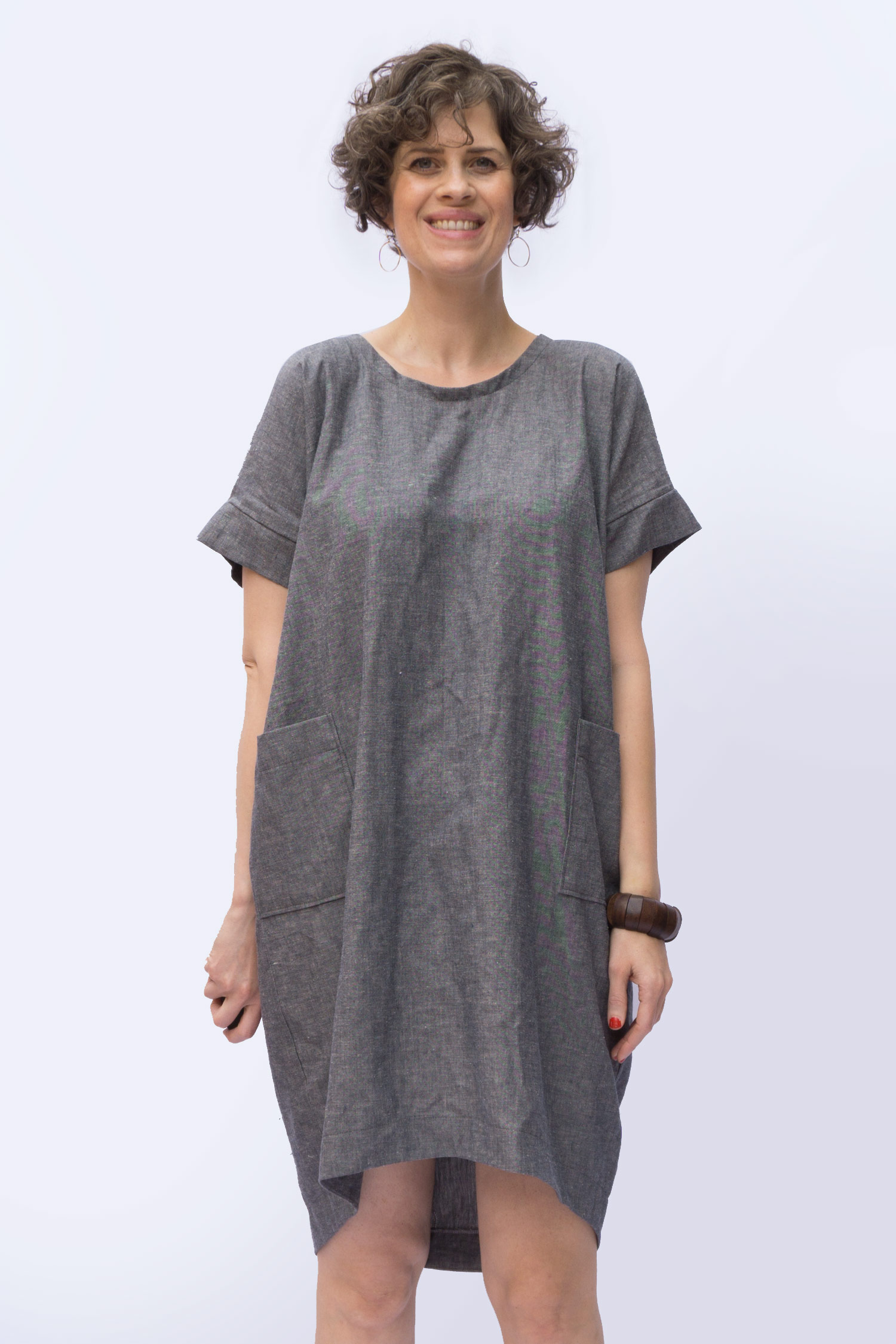 The Lou Box Dress 1 is a loose-fitting cocoon style dress. Worn alone, it's perfect for warm summer days. Paired with a sweater, tights and boots, it will take you through the colder months. Make it in linen for a casual and sophisticated look or use sweatshirt fabric for extra coziness. The blue and cream striped dress is View A sewn in a medium-weight knit fabric (similar to ponte in weight) from The Fabric Store. It features a medium scoop neck, 3/4 length sleeves with cuffs, in-seam pockets and a knee-length skirt. View B is sewn in a lightweight linen and features short cuff sleeves and patch pockets.
The Lou Box Dress 2 is a loose-fitting gathered waist dress with a ballet neckline, scoop pockets, a knee length skirt and dolman sleeves. The floral print is View A made in a lovely woven rayon fabric from The Fabric Store. View B is sewn in a light-medium weight knit fabric and features full-length tapered sleeves and a low scoop back.
I have a sewalong in the works that will roll out over the next month or so. The sewalong will include tips, tricks and photos. (In the meantime, if you need a little extra help, check out the Lou Box Top Sewalong, many of the steps are the same.) The patterns can be purchased individually or as a bundle for a savings of 25%. Until Tuesday Jan 9, 2018 at midnight Pacific, you can get 20% the individual patterns using the code LOUBOXDRESSLAUNCH at checkout. I hope you love these patterns as much as I do!